Grasshopper is leaving the UK
Withhold Your Mobile
Keep Your Business and Private Lives Separate.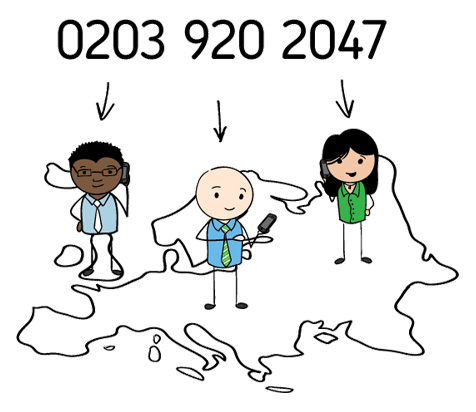 Withhold your mobile number from clients with a virtual landline
Choose a customised local, national or freephone number
Sound professional with custom greetings, multiple extensions and on-hold music
Forward calls to your mobile or landline
Keep your personal and professional lives separate
30 Day Money Back Guarantee!
Get a Number

&

Sign Up »
or See How it Works »
Withhold Your Personal Number With a Virtual Phone System
All companies need ways for customers to contact them. When you first start a business, your mobile number may work well, but as you grow, you should consider a dedicated business line. A Grasshopper virtual landline will forward calls made to your business landline directly to your mobile, home, office phone, or any combination of your choosing.
Simply put: you give your customers your business landline number and answer their calls from your mobile! The ability to withhold your mobile number from customers gives you complete control over your business and personal communications as well as the professional appearance of a dedicated business number.
Frequently Asked Questions about Grasshopper's Virtual Phone System
What is the difference between Grasshopper and a regular phone system?
The basic difference is what's physically in your office space. In a regular system, all the wires and switches will be in the office, and you'll have to set them up (or hire someone to do it). The Grasshopper virtual system is hosted by a third-party who manages and controls the wires and switches.
Can I switch my current business number over to a new Grasshopper system?
Yes. You can port the number over, usually when you sign up.
What's the difference between Grasshopper and VoIP?
VoIP (Voice over Internet Protocol) makes and receives calls using your internet connection. Grasshopper uses a third party provider rather than your personal internet connection, which makes it more reliable. For an in-depth comparison, check out our VoIP comparison guide.
How does Grasshopper work with a VoIP system like Skype or Google Voice?
VoIP is mostly about making and placing calls, while Grasshopper's virtual phone system is designed to manage and route incoming calls. If you already have a Skype phone number, Grasshopper can forward calls to those numbers. Basically, Grasshopper compliments VoIP services.
Over 250,000 Happy Customers Served
Here's what a few of them have to say about Grasshopper
I am now a huge fan of Grasshopper… truly saved the day (and my sanity). Carolyn Appleton Carolyn M. Appleton, Inc.
Having a phone number on our site increased conversion of site visitors to sign ups and paid users! Allan Branch LessAccounting