Grasshopper is leaving the UK
Virtual Landline for Your Business
Sound Professional and Stay Connected at a Low Cost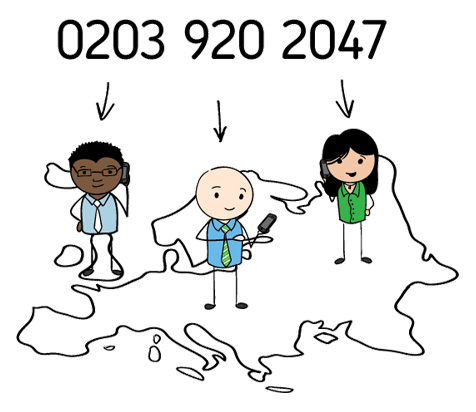 Get customised local, national or freephone numbers
Have calls answered automatically with a professional voicemail greeting
Get multiple extensions for employees
Forward calls to any number on any phone
30 Day Money Back Guarantee!
Get a Number

&

Sign Up »
or See How it Works »
What Are Virtual Landlines?
A virtual landline is a landline number that forwards calls to your mobile or other phone. A virtual landline is the number customers call to reach a business using a virtual phone system. Virtual phone systems are essentially remote servers for your incoming calls, hosted by a service company much like your website is hosted.
Callers into your system will walk through a phone tree that includes messages you record and send to the service provider. The simplest systems will forward a professional-sounding freephone number to your personal mobile phone while giving you the option to set up multiple extensions for employees and departments.
What Service Levels Exist?
As with other phone service models, you can start small and work your way up. Unlike "traditional" phone services, virtual providers rarely require you to sign up for a multiple year contract and most plans are based on the number of minutes used. Although you can customise services to your needs, there are three broad categories of service:
Call forwarding.
Call forwarding takes a virtual landline and forwards the call to your phone. Small business owners find this useful because forwarding to a mobile is convenient, and a  dedicated business landline can make them appear like a large organisation.
Call scheduling.
Call scheduling works in two different ways. With this service, you program the forwarding to reach different numbers at different times of day, or to forward through a series of numbers until somebody answers. Both are good for businesses with multiple employees, especially if they spend a lot of time off-site.
Caller menus.
Caller menus or custom greetings sound just like an advanced phone tree. The caller first reaches a message that gives them options depending on their specific needs. Even if all the options lead to the same phone number, this can start every caller's experience with your business off on a professional footing.
Additional features make your life easier.
Many switchboard free phone systems like Grasshopper come with features such as voicemail transcription, call forwarding with multiple extensions, custom main greetings, fax to email, and more.
The Bottom Line
Not every new company needs an advanced phone system from day one. A virtual landline is a scalable, low-cost solution that can give your company the professional communications infrastructure it needs while you-re still starting up.
Over 250,000 Happy Customers Served
Here's what a few of them have to say about Grasshopper
I am now a huge fan of Grasshopper… truly saved the day (and my sanity). Carolyn Appleton Carolyn M. Appleton, Inc.
Having a phone number on our site increased conversion of site visitors to sign ups and paid users! Allan Branch LessAccounting