Grasshopper is leaving the UK
Naming your business
Here is the big idea
Brainstorm some names – make them simple, easy to spell, and relevant.
A/B test names – get some data to help make your decision easier.
Check with Companies House to ensure your name follows the rules.

The right business name is crucial to your growing enterprise. A name is what people will see and hear when they first get acquainted with you. Now that everyone is on the internet, your name is going to be put on a lot more than business cards and letterhead.
Your business name should embody your style, be easy to spell and say, and be ok-ed by the Companies House. That sounds easy, but choosing a business name is quite a challenge. That's why we've come to the rescue with tips on choosing a name.
If you are working on your own as a sole trader, you do not have to choose and register a name. If you're setting up a private limited company (Ltd), limited liability partnership (LLP), limited partnership (LP), or 'ordinary' business partnership, you must choose and register a business name.
Companies House has a few rules for registering a business name:
You cannot use another business' name. To learn if your name is already taken, you can search the registry at Companies House.
Your business name mustn't contain a potentially offensive or sensitive word or expression, unless you have explicit permission.
You cannot include limited, Ltd, limited liability partnership, LLP, public limited company, or plc in your business name.
When a business name is hard to pronounce or awkward to spell, people will avoid saying it and writing it down. Could there be a worse scenario for your growing business? Most small businesses rely on other people to generate interest in their business. If people are afraid to mention your name for fear of making a mistake, it's a potential disaster.
If your name is easy to spell and say, it makes it that much easier for people to find your website, connect with you on social media, and talk about you to colleagues and friends.
Some tips:
Avoid numbers, letters, abbreviations, alternate spellings and anything else that might confuse customers and contacts.
Many incorporate their first and/or last name into their business names, but sometimes they can be hard to spell. Consider the difficulty of your surname is when naming the business.
Do not choose a difficult name so you can get the domain you want. There is probably a better solution
Because so many URLs are taken, entrepreneurs are starting to pick out random made up words for their businesses. Kaggle, a platform for data scientists, is a good example. The word is completely random-- and its founders chose it for that reason.
Anthony Goldbloom of Kaggle wrote an algorithm to find a start-up name. He wanted to find all pronounceable combinations of letters whose domains weren't already used. When his programme spit out Kaggle and Sumble, he and his colleagues chose Kaggle.
You don't have to create an algorithm, but it might be a good idea to make up a random (but pronounceable) word for your business. Entrepreneurs who've done this are happy their name is distinct, allowing them to build a totally unique brand.
You can register a new domain at UKreg, Fasthosts, Go Daddy, or 123-reg. All of these sell .uk, .co.uk, .com.uk, .com, .eu, and other domains.
Some names have nothing to do with the business, whilst others explain what the business does. For example, it is quite clear that Royal Bank of Scotland is a bank, but not as clear that Tesco is a grocery store, at least if you had never heard of Tesco before.
It can be difficult to come up with a name that is relevant to your audience and also unique, but many businesses have done it. Vodafone has found a way to add the word "phone" into their business name, making it clear what they do whilst being unique.
Need inspiration? You can use Panabee's business name generator tool to inspire you. You'll be asked to put in two words, and the tool will show you a ton of ideas, and even allow you to buy a domain. Here's what happens when you type in "hairy fish":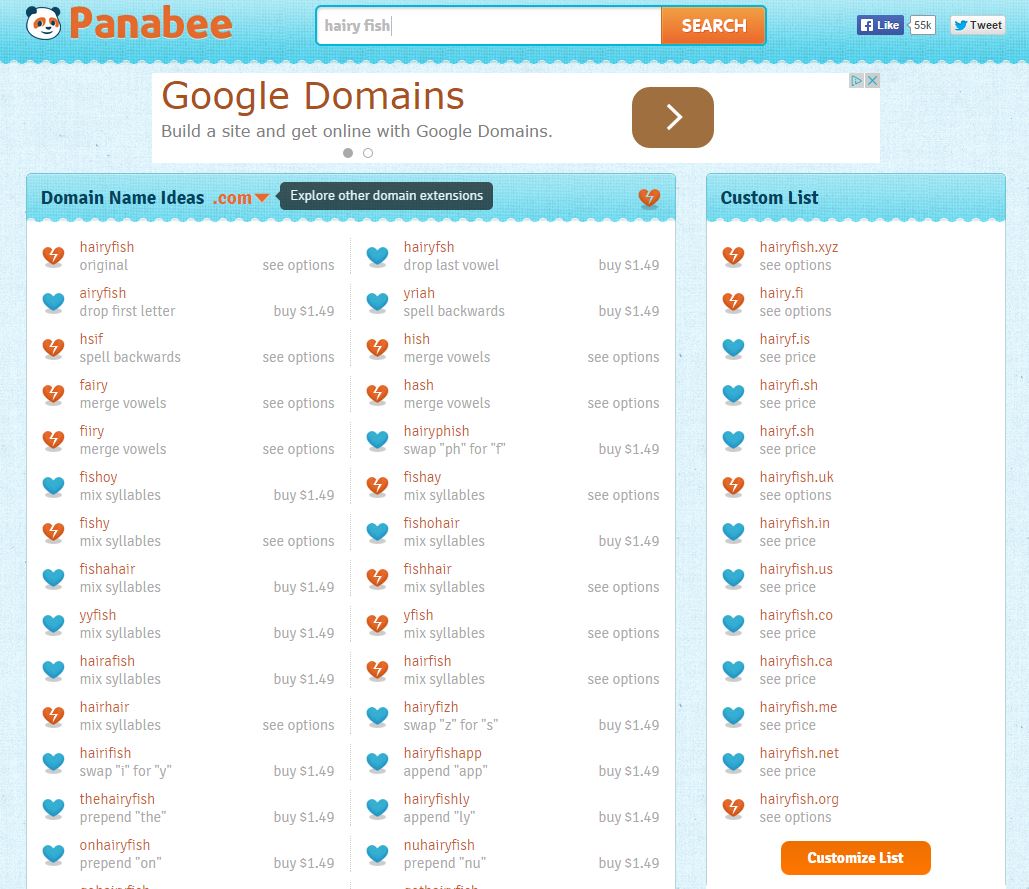 Once upon a time there was a car called the Chevrolet Nova. Sounds like a good name, but the Spanish translation for "no va" means "it doesn't go." Not the best name for a car.
With over 35 million Spanish-speaking people in the United States and more throughout Latin America where this vehicle was marketed, "Nova" clearly isn't the best name choice, despite Chevrolet's good intentions.
Check to make sure the name you choose works in different languages, especially if you plan to market your products and services globally, even in just the EU. Be sure to look into any unexpected and compromising meanings and connotations when selecting your business name.
Will Mitchell, serial entrepreneur and founder of StartupBros recommends that you A/B test a couple of different names to figure out what really resonates. That means running side-by-side comparison tests on two different names (version A and version B).
"It seems everybody thinks they should get their naming advice from friends, family, and Facebook friends – I suspect out of desperation. That is a stupid thing to do. I would much rather A/B test my possible business names to find out exactly how much more or less receptive my target audience would be with each name."
Will tested StartupBros against a host of others to see which ones were best. You can use Unbounce or Optimizely to help with something like this.
In the end, Will found that StartupBros performed 13% better than his original name idea, IncomeLabs.
Taking the time to test a name can make all the difference.
If your last name is South, should you use that in your business name? It depends. We have listed the pros and cons to using your surname for business:
Pros
Business is immediately associated with *you* and your expertise.
Practical for sole traders and professionals such as lending agents, architects, accountants, lawyers and consultants.
Unlikely that the business names has been used already.
Domain names are more likely available.
Associates the business with an entire family.
Promotes an intimate, handmade company culture.
Cons
Names can be hard to spell and say.
If the business grows, services may no longer be touched by the owner, creating a disconnect.
Customers and clients may always want to work directly with the owner.
These names make a business seem small, intimate, and person-to-person, suggesting it will not grow.
Not appealing to investors looking to take a business to the next level.
Can appear self-interested and indulgent.