Grasshopper is leaving the UK
Marketing and generating buzz
Here is the big idea
Buzz is the way to go, but you don't need a fancy, expensive PR firm. Use the tools that are available to you.
Learn to pitch your story to influencers, journalists, and writers.
Be awesome and unexpected. Delight your customers and surprise them everyday.

No matter how awesome your business is, if no one has heard of you, you won't be successful.
Some of the most challenging parts of running a successful business are marketing and getting people to talk about your company. But they're also some of the most important. To do well, you need to have loyal customers ─ paying ones. The only way to get those customers is to go out and find them. They can't be loyal customers if they don't know that you exist.
There are tons and tons of methods and tools to help get the word out. SEO, content marketing, user experience (UX), social media, standard advertising ─ they're all great ways to go about it. But there's a secret ingredient that can take your marketing mix to a whole new level. It's called buzz.
Buzz or word-of-mouth marketing is best described as "people talking about you." Has a friend recently recommended a restaurant or a hairdresser or told you to watch a crazy YouTube video? Has a business connection suggested a new online service that will help you with accounting?
That's people talking about companies. That's buzz.
Buzz is truly a beautiful thing for a lot of reasons. For one, it can happen organically and lasts forever. If people are talking about you, your work is done. Not to mention… it's free.
Throughout the course of running your business, you will probably use some form of paid advertising at some point. Adverts are great ─ we have a pretty healthy pay-per-click campaign, have experimented with social media adverts, and use Sirius radio ads to get the word out about Grasshopper.
But advertising is far from being our bread and butter. Much of our traffic comes directly from word-of-mouth. Customers talk to their friends, family, and colleagues who then take a look at Grasshopper to meet their needs.
"I started as a sole trader, but I'm considering altering this to Limited ─ in part as a way to protect myself as an individual, but also as I think it may provide a little more clout." – Mark Hughes, BuzzMarketing
Getting yourself mentioned and talked about in the press is a huge key to generating buzz, but you don't need the help of a PR firm.
Traditional PR firms can help you to get in the press, putting attention on your brand, but they don't always deliver the greatest results, and they aren't cheap either. Most PR agencies are numbers driven and have lots of clients. Lots of clients means less time for you. Do you want someone that's not fully invested in your vision selling your product or service to the world?
If you develop a few skills around pitching reporters and developing relationships with bloggers, you can do exactly what they do for way cheaper. Plus, it will be more genuine in the long-run.
Grasshopper has become a successful company without the help of a PR firm, and we're not alone. Tons of other companies have done well without them, too.
Generating buzz about your company isn't magic or rocket science. You can do it yourself. So how do you get people to talk about you?
The biggest, easiest, most effective way to get people talking about you is to be different. If you're just another company doing what every other company does, you aren't interesting or worth talking about. As a small business, you probably operate pretty similarly to your competitors ─ with the same price points. Work to set yourself apart, what ever that means. Make funny flyers, write an article for the local website, make a presentation at your children's grammar school, create a beautiful website, or offer rebates and discounts. Do SOMETHING that will get you noticed in a positive way.
Absolutely key to this is storytelling. Even if your product or service seems a little boring, you can always tell stories that differentiate you from your competitors. If your company started because you lost your job or wanted to create a product for your children, talk about it with honesty and transparency. If you tried something out and watched it fail, don't be afraid to share. A good story is transcendent, and everyone ─ especially the press ─ loves it.
The first step to getting people to tell your story, write about you, praise you on review sites, and talk about you to their friends is learning how to tell your story. Learning how to talk about your business is vital to everything from getting funded to creating buzz. Your job as the Director of Buzz is to connect with key influencers, get the word out about your business. It's all about doing things and telling stories that get people talking, writing, and blogging. The more people writing about you the better.
Once you have your interesting story and know how to pitch it, you want to talk to the right bloggers and reporters. The key is giving them something interesting to talk about. Don't pitch the same old story to the press. Pitch your story. Give them relevant information that they can turn into a great post, article, etc. The more people you get in touch with, the more opportunities you create for people to talk about you. Every pitch should be fresh and unique, but make sure to be consistent and stay true to your brand.
Your customers are the ones who will talk about you online and recommend you to their friends, so it's important to treat them exceptionally well. Happy customers are far more effective than any sales force. Satisfying your customers doesn't end with offering a great product ─ you also need super support and to build exceptional relationships. Go far above and beyond what customers expect of you.
"Whenever your write or comment, talk to your customers and show empathy and understanding of their issues or needs. It's all about proving you are a credible source of expertise to the media and your customers." ─ Sean Mallon of Bizdaq
To entice and retain customers:
If you mess up, be proactive and apologize
Write handwritten thank you notes
Send out personalized gifts
Follow them on social media sites (Twitter, Facebook Google+, etc.)
Pay special attention to your support offerings
Give them press so they'll give you press
Offer promo codes and generous rebates
Write about customers on your blog
Use customer's services when appropriate
Be honest and transparent about who you are and what you offer
We could go on and on about caring for your customers. You can't overestimate how important they are to your company, so it's vital to be attentive to their needs and wants. Cherish each and every customer!
You simply must get comfortable talking about your company. If you're not ready to jump in and sing your praises, then who else will do it? Get your name out by attending networking events, startup meetups, coworking spaces, and other events related to your industry. Talk, talk, talk then pitch, pitch, pitch some more.
BuzzMarketing by Mark Hughes
Generating buzz is much more effective and far cheaper than traditional strategies. If you get people talking about some interesting things you've done, you can gain customers for life. Mark Hughes tells anecdote after anecdote about how marketing with buzz propelled all sorts of companies to success. At Grasshopper, we love this book.
Pitch Perfect by Bill McGowan
Saying the right thing the right way can make the difference between sealing the deal or losing the account, getting a promotion or losing your job. It's essential to be pitch perfect ─ to get the right message across to the right person at the right time. In Pitch Perfect, Bill McGowan shows you how to craft the right message and deliver it using the right language ─ both verbal and nonverbal.
Contagious by Jonah Berger
Word-of-mouth is the propeller behind today's wildly successful and popular brands, but what's the secret? No matter how they make it happen, the secret is just getting people to talk. Jonah Berger shows you how to do the simple and yet challenging ─ spurring buzz and getting mentioned.
Today, social media is for pretty much everyone. In fact, the fastest growing age bracket on Twitter is 55-64.
Sites like Twitter, Facebook, LinkedIn, and Pinterest aren't just for kids anymore. Businesses and individuals alike love being connected. When something big is going on, people are buzzing like bees on these sites.
The key to utilizing social media buzz is to be aware of it. You want to pay attention to the most popular social sites to stay involved and up to date. In the UK, that means:
Facebook
Youtube
Twitter
LinkedIn
Google+
Pinterest
Instagram
Use TweetDeck, a platform by Twitter. You can make columns of search terms that are relevant to your business. They'll help you keep track of what people are buzzing about in your industry.
For Grasshopper, we might search "grasshopper.com," "virtual phone system," and "entrepreneur" to find opportunities for engagement.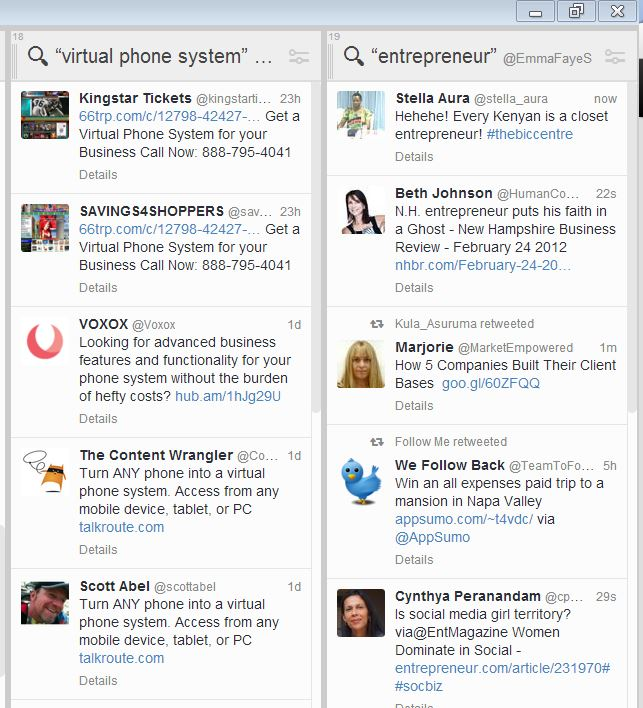 Keep in mind, when people complain, it's probably going to be on social media. It's super important to respond quickly and efficiently whenever your brand is mentioned.
A few social media tips:
Find out where your audience is. You can have a great Instagram page, but if your customers aren't on Instagram, you're wasting your time.
Learn the different sites. What works on LinkedIn might not work on Facebook or Twitter. Read up on how the sites work as well as what types of updates work best for each site.
Don't be over-promotional. Share your blog posts and updates, but share other people's stuff, too. Your goal is always to help your customers. No one wants to hear you constantly talk about yourself.
Have a sense of humour. Being personable and human will make you fun to follow. People don't like when social media accounts are too corporate and stiff.
Use social media to find fans. If you've got fans, they're likely to follow you on social media, peppering your accounts with favorites and likes. It's great to have fans on board, so use your social accounts to find out who they are so you can reward them.
Be an active participant. Don't just post once and forget about it. Social media is active all the time, so make sure you're consistently posting.
Get some software assistance. Use Buffer, Argyle Social, or HootSuite to manage and assess your social media accounts. You can schedule updates and figure out how well you're performing.
We're not just talking here ─ buzz can do some seriously big things for your business. We've tried it.
In May 2009, Grasshopper went through a rebrand. We didn't just change our website and name. Instead, we sent out chocolate-covered grasshoppers.
We identified 5,000 influencers and raised 25,000 grasshoppers to cover in chocolate. Then, we sent out 5 to each influencer. We also created a YouTube video to inspire entrepreneurs as part of the campaign.
It was a crazy idea ─ but it worked. Just look at how much buzz was generated from our campaign:

Our rebrand is a big example of a pretty basic concept: People talk when they're surprised or delighted.
If you have average marketing with boring messaging and a stale attitude, it's unlikely that anyone will be buzzing about what you're doing. Little, easy things like sending gifts and thank you notes to customers, engaging on social media, creating great content, and promoting the cool stuff you're doing will go a long way in getting people talking about you.