Grasshopper is leaving the UK
Investors and funding
Here is the big idea
Do some math – see if bootstrapping can work for you because it's a great option.
Next, take a look at what loans, government schemes, and investors you can access.
Don't forget to think about crowdfunding – it's young and evolving every day.

Ok, so you've got a business idea, and you're working to make the dream a reality, but you've got to consider funding.
After all, you need money to turn your idea into something tangible. You need pounds to pay your employees.
If the money isn't coming in yet, it's tough to build a top notch product or service.That's why many small businesses and start-ups look for funding and seek out investors.
Before you even begin to consider outside investment, consider how you can launch the company and get to revenue before you have to raise money. Although it seems hard in the short-term, it'll be better for you in the long-run in terms of your knowledge of the process, and building your own equity.
So, how do you do it?
Bootstrapping means that you raise money without any help from investors. It's how we got Grasshopper off the ground. If you can build your business without investors, do it this way.
You might bootstrap and keep your full-time job or quit and use your savings to get business off the ground. Begging your parents for money counts as bootstrapping.
Why bootstrap? You'll retain complete control. That might not sound like a big deal, but when you've got investors' hands in your company, you may not be able to build your product exactly as you dreamed. Things get difficult when you're playing with someone else's funds.
Here are some of our favorite resources for bootstrapping:
Why you should bootstrap your start-up Adam Baker explains the benefits of self-funding a business and why you should consider it, as well as how he was able to be successful using bootstrapping.
Starting Up on a Shoestring If you want to bootstrap your business, check out Inc.'s comprehensive list of bootstrapping articles. The list includes tons of stories of entrepreneurs who successfully bootstrapped their businesses.
Bootstrapped, Profitable, & Proud 37signals is famous for being both bootstrapped and profitable. They have a whole page dedicated to companies who didn't take money from venture capitalists. Read Rework by founders Jason Fried and David Heinemeier Hansson for more info on bootstrapping.
Bank loans are one of the most common ways to get funds, and don't assume your bank will turn you away. According to Anthony Browne, chief executive at the British Bankers' Association, "lenders are supplying vital funding to small and medium-sized enterprises across the country."
In order to be considered for a bank loan, you will need to come equipped with a business plan and financial projections. If you're struggling to come up with these, there are plenty of resources available to you including GovUK, Start Up Donut, and Barclays.
This video from GovUK is a helpful resource for forecasting your finances:
Be aware that the bank may want you to give security against the loan, in the form of your house or your car.
The Better Business Finance's tool can help you determine what bank loan option will work best for you: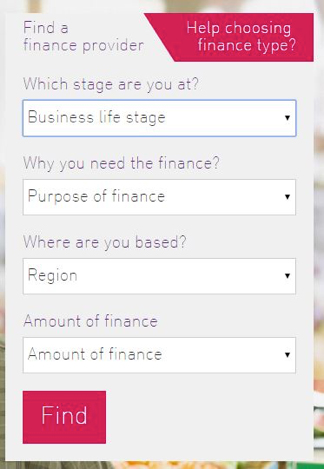 A few tips for getting a bank loan:
Don't just consider mainstream banks. Smaller banks, and even online lenders, are cropping up, and they provide great support to SMEs. Don't just consider the larger, mainstream banks when looking for a bank loan.
Be honest with lenders. It may be tempting to slant the truth, but honesty will get you a loan that is realistic for you and your business. Lenders are experienced, and you can't trick them anyway.
Come equipped with a business plan. Banks will want to see a business plan and financial forecast so they see you've done your due diligence.
Get bespoke advice from experts. Every business is different, so we can't make sweeping statements about what's best for you. Find a financial expert or small business consultant to help you decide which types of bank loans are a good fit.
The government has 630 initiatives meant to help SMEs. They have apprenticeship programmes, incentives, training opportunities and grants.
For a growing SME, the government offers direct grants, soft loans, equity finance, and free or subsidised consultancy. There are even more, depending on what you're looking for.
You can visit Gov.uk's Finance tool to look through the options, but they generally fall into a few categories, explained below: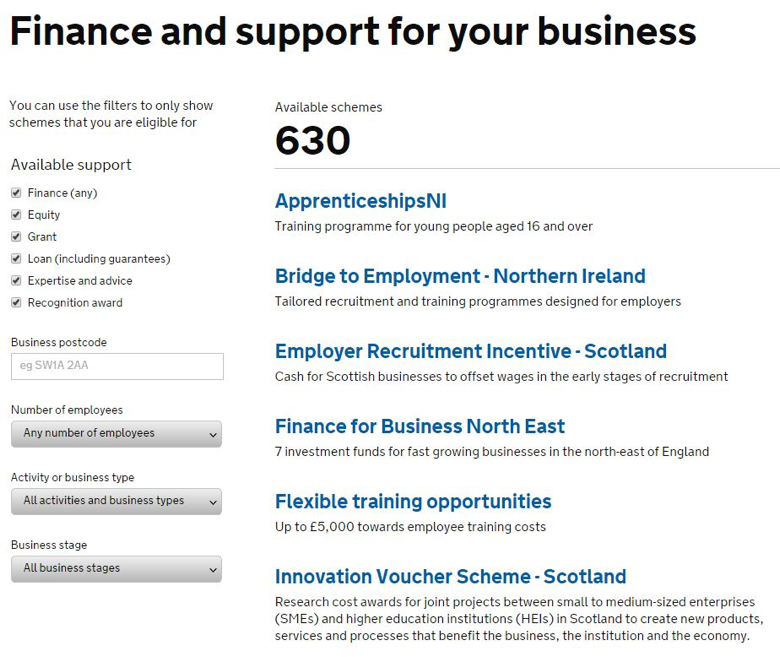 Direct grants
A direct grant is a cash infusion. The government has over 300 of these direct grants, many of which are funded through the £3.2bn Regional Growth Fund. This fund is dividing up £3.2bn for promising SMEs in the UK.
Soft loans
A soft loan is more like a grant than a bank loan. The terms and conditions are softer than they would regularly be. The government-funded Start Up Loans offers SMEs loans of up to £25,000 with a 6% interest over a 12 month repayment "holiday." Organisations such as Big Issue Invest and The Prince's Trust also offer soft loans.
Equity finance
Equity finance is when someone gives some money to a business, and is entitled to a certain percentage when that business grows. The government actually provides tax relief to investors willing to give some money to your business, so it's worth looking into the Seed Enterprise Investment Scheme (SEIS) and Enterprise Investment Scheme (EIS).
Free or subsidised consultancy
Government-run groups provide help and assistance to UK-based small business owners and start-up founders. Wales has a highly-regarded support service with many events throughout the region, for example.
As mentioned above, financing your business with equity is a great option, especially as the government now offers tax relief programmes to investors.
Equity is one of the most common ways to fund a small business. However, small business equity isn't right for every situation. In fact, we're a bootstrapped company and we didn't take money from outside investors, but that doesn't mean it's not right for you.
It can be a tough decision to sell shares of your business to people you hardly know — and even tougher down the road to give a portion of your profits to someone who did nothing but open their wallet. You could lose a bunch of control, so you need to proceed carefully.
There are two types of equity:
Equity financing is when you sell "shares" of your company to outside investors in order to finance your business. When you make money, your investors are entitled to a portion of the profits. This type of equity is best for sole traders who need some start up cash.
Equity compensation is when you offer your employees a percentage of company profits as part of their compensation package, typically in exchange for a lower than average salary, or occasionally in lieu of salary completely. This type of equity is best for businesses that are in need of human capital more than physical capital.
How to find investors
Equity will only work if you're able to find investors. Your investors don't have to be on Lombard Street-- they will likely come in the form of friends, family members, business contacts, and potentially angel investors or venture capitalists.
Bringing a VC investor into the business has been a positive experience. It's best to view investors as partners in your business, so it's important from the outset to find an investor who shares your vision. - Luke McCormick of Edge Retreats
If you think your business could benefit from more than just pounds, but also a little business advice or mentorship, you might consider a start-up incubator.
Start-up incubators are large companies that offer seed money, expert mentorship, supplies, and sometimes even office space in exchange for a share of company ownership (equity).
Some of the most popular incubators today include Oxygen Accelerator, Innovation Warehouse, and Central Working. among others. These incubators are sometimes specific to certain fields (technology or entertainment, for example), and others will accept applications for all types of ventures.
Because the value of start-up incubators is so great, acceptance into them is typically VERY competitive across all industries. But don't let that stop you – if you believe in your idea, chances are you can convince someone else to believe in it too.
Oxygen Accelerator (Google Campus)

http://www.oxygenaccelerator.com

Oxygen Accelerator is one of Europe's most established tech accelerators. It's a 12-week intensive bootcamp that puts together investment with training. They offer €21,000 per team in exchange for 8% equity. You'll gain access to 100+ mentors, startup offers and deals, and position yourself to get even more funding.

Accelerator London

http://www.accelerator-london.com

Accelerator London is a premier business accelerator. They offer business incubation for early stage and start-up businesses with two different incubation packages. They are interested in companies with commercial and technological aims.

Innovation Warehouse

http://www.innovationwarehouse.org

Innovation Warehouse is more community than traditional accelerator. Based in London, they are home to successful startups and angel investors that work in their space. Innovation Warehouse offers an in-house accelerator programme as well as mentorships.

Central Working

http://centralworking.com

Central Working is a co-working space with multiple locations in the UK. They do not have any formal accelerator or mentorship programmes, but they do have a collective of hundreds of members that you can learn from.
For a complete list of incubators: http://www.entrepreneurhandbook.co.uk/incubation-centres/
Crowdfunding is a relatively new way of seeking investors for a start-up or small business. In crowdfunding, you ask the general public to invest in your business, usually in exchange for a product or service.
"The sector is primed to go on and completely replace aspects of retail banking," Julia Groves, chair of the UK Crowdfunding Association, told The Guardian.
Here are a few popular crowdfunding sites:
Crowdfunder.co.uk - This site is open to everyone. It raises funds for businesses, charities community groups, and sports teams. Funding is not guaranteed, but it's a good place to start for UK-based businesses.
Kickstarter - This site is what made crowdfunding famous, and it's still one of the most popular ways to fund a business. It specializes in creative projects.
Funding Circle - Funding Circle is not a traditional crowdfunding website. It's a peer-to-peer lending website, where people who like your ideas can invest.