Grasshopper is leaving the UK
Your brand's DNA
Here is the big idea
Determine your core values – what is important to you? Why are you in business?
Bring them into the office. Treat your employees right and keep them satisfied.
Bring them everywhere else. Build a rocking brand in the minds of your customers.

Your company is made up of more than a product and a website. Your business' core ideologies and brand are what give it life. These things don't just happen by chance ─ they start with you, the founder.
The internal culture of your company is deeply linked to your brand. In order to attract both customers and employees, you need to invest heavily in developing a great brand and company culture.
It makes sense, right? When you think of some really influential companies of today ─ like Tesco ─ they're known for their branding more than what they actually do on a day-to-day basis. Branding like that is intentional and vital to true business success.
Think of your company's brand just like your baby. It will grow, change, and evolve with the changing times. Factors including culture, passion, efficiency, and core values are so integral to your company that we think of them as your Brand's DNA.
Brand DNA emerges from two huge parts of your business:
Your internal company culture. The productivity and passion of your employees depends upon your leadership. If you build a brand that prioritizes passion, personal development, and work-life balance, you'll be much more likely to have a happier, more dedicated team.
Customer perception. Do you want your customers to see you as another nameless, faceless corporation without personality? Probably not. That's why it's crucial to build your brand DNA with customers in mind.
A great brand is what allows your business to stand out from the crowd of your competition. You don't want to be white noise in today's marketplace, so working your brand is absolutely key to your success.
"Having a strong brand is as important as the quality of the products and services it provides. A strong, confident brand will be your face to the world and it needs to provide trust and assurance you can deliver. Over time you want it to be a brand that can be relied on." – Victoria Ballard of The Victoria Chart Company
At the end of the day, your brand really is all about you. The best brands all have one thing in common: authenticity. Building a genuine brand starts with figuring out what your core values are.
"All too often people think that the 'business brand' is just your logo. Clear branding and core values go a lot deeper than that." – Frances Bourne of Right Boxes
Deciding on your core values is as simple as demonstrating what you, your employees, and your business truly care about. What are the guiding principles by which you will make decisions and run your company?
If you can't put a name to them right away, you're not alone. Here are a few examples:
| | |
| --- | --- |
| Generosity | Skill |
| Transparency | Cutting edge technology |
| Fun | Empathy |
| A team focus | Excellence |
| Passion | Detail |
| Drive | Self-awareness |
| Ambition | |
Without a brand and culture to guide it, your company is like a ship without a rudder. Established core values and ideologies will help you to navigate all of the decisions you will have to make over the course of running your business.
More than just helping you make decisions, having a defined set of core values will help you to attract employees and partners who share your vision. They will also help employees to understand what is expected of them.
At Grasshopper, we developed some core values to define who we are and what we're working for. These help us chart a path for the future, and also inspire and remind us who we are in the present.
We chose the values we did because we're on a quest to fulfill our mission "to empower entrepreneurs to succeed." We're passionate about providing a great phone system, but we also want to offer something bigger than that. We're not working just to work—we're working to help others start, run, and grow their businesses.
"Take a notebook around with you for the next couple of days. It doesn't matter what you are doing but, on one page, write down when you get annoyed or disappointed and why. On another page write down when you are made to feel happy and content and why." – Simon Harding of Theatre Breaks
Need some examples?
Tesco shares their core values as:
No one tries harder for customers
We treat people how they want to be treated
We use our scale for good
And we've created G.A.R.Y. (Our Core Values spell out the name of our mascot)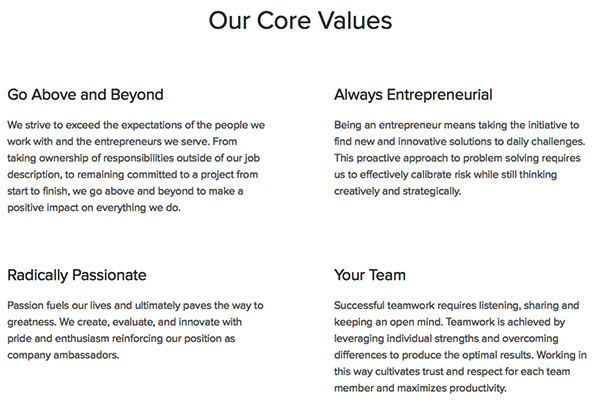 Having values allows you to consistently check on the pulse of your company. They can serve as a type of report card for making sure your team is aligned with the company mission.
At Grasshopper, we have "I caught" cards so employees can celebrate each other by catching coworkers in the act of living our core values.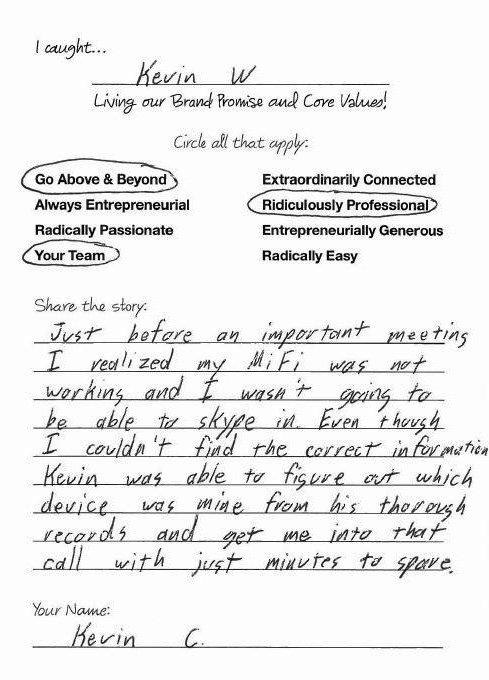 Company culture involves a lot of things ─ it takes more than just Free Doughnut Fridays. Whilst small perks are helpful, you really want to create an entire atmosphere that encourages employees to feel relaxed and able to have some fun.
Your goal is to give employees a reason to enjoy coming to work. Providing great benefits, offering flexibility, planning company outings, and giving little gifts will go a long way when it comes to employee's feeling happy and satisfied. These kinds of policies are how you reinforce the culture and core values of your company.
We know what you're thinking. All of that sounds expensive, right? In the long run, it's not. The benefits that satisfied, engaged employees will bring to your business are far greater than the cost of offering those perks. You'll see huge gains through increased employee commitment and reduced turnover.
Here, at Grasshopper, we can attest to that! Previously at 25%, employee turnover dropped to just 10% in 2008. We used to have over 200 employees, but now run a much more specialized, 45-person team. Grasshopper's investment in culture has allowed us to grow year after year.
Another great example of the tangible benefits of investing in company culture is Southwest Airlines. Between 1991-1993, they increased market share by 19% by working their culture. They boast the lowest cost per mile of all major airlines and trample their competition in productivity, handling 2,443 passengers per employee compared to the only 800-900 of competitors.
The best way to build a successful, lovable company is to instill the values of your brand into the people you work with.
These are a few ways to create a positive culture within your company:
Make sure to have ample health care and time off.
Hold employee outings and parties.
Give employees gifts when they start.
Make sure every worker is equipped with the best technology, if feasible.
Celebrate employees' life milestones such as big moves, getting married, having babies, or passing classes and certifications.
Celebrate employees' birthdays every month. Lump them together and celebrate in a monthly birthday party.
Provide tons of snacks and food options so no one is ever stressed if they forget their lunch.
Pay for some other things like gym memberships, rail cards, and cell phones.
Sometimes you've already gone down the wrong road when it comes to company culture. Maybe you have very talented employees, but they aren't motivated or passionate about their work. Maybe their vision is different from yours. Once you're here, changing culture is a challenge because people get accustomed to the "old way" of doing things -- it's time to change the management process. You can change company culture for the better. How?
Step 1: Change the corporate culture
Changing the overarching culture of your company starts, like everything else, from the top. Whether you are working alone or have a whole executive team, you need to identify the organization's vision and goals. Be honest and realistic about your expectations, work on better communication, and take a look at your own flaws that may negatively impact the company. If corporate doesn't change, how can you expect the entire culture to shift?
Step 2: Decide what needs to change
After you've figured out how the corporate culture is affecting the overall company culture, it's time to decide what needs to change. Are your employees unmotivated? Are they often late? Is the workplace so casual that customers and clients have complained about rude behavior? Is there talk about low salaries? Remember that these things are all symptoms of a larger problem. Sure, you want your employees to show up on time, but the reason they're late is because they don't think it's important to come in early. They don't see conscientiousness as a value to uphold.
Step 3: Change The Culture in The Workplace
Implementing change is easier said than done. You're used to the way things work, even if you're unhappy with them. Your employees are used to it, too. In order to change company culture, you have to get at the root of the problem. It won't be possible to change everyone's attitude all at once. Instead, find a few people with influence that can rally around the cause. If you get other leaders on your side, you'll soon be able to change the culture.
Your core values don't stop when you walk out the office door. They also need to be infused in the products and services that you provide. It's not enough just to offer a product ─ you need to make consumers feel something.
At Grasshopper, our mission isn't to provide the best telecommunication solution in the world (even though we'd love to do that). Instead, it's to empower entrepreneurs to succeed.
Wondering how you can do it for yourself? Ask two questions:
What do my customers want to accomplish?
How does my brand help them achieve it?

Virgin Atlantic is an airline, flying people around the world just like any other carrier. But Virgin's different not because the prices are dramatically lower or because the seats are upholstered in cashmere. Virgin is different because it makes its flyers feel cool.
What do Virgin's customers want? They want to get somewhere. How does Virgin help them? Virgin gets them to their destination with a touch of young, invigorating coolness that they can't find on another airline.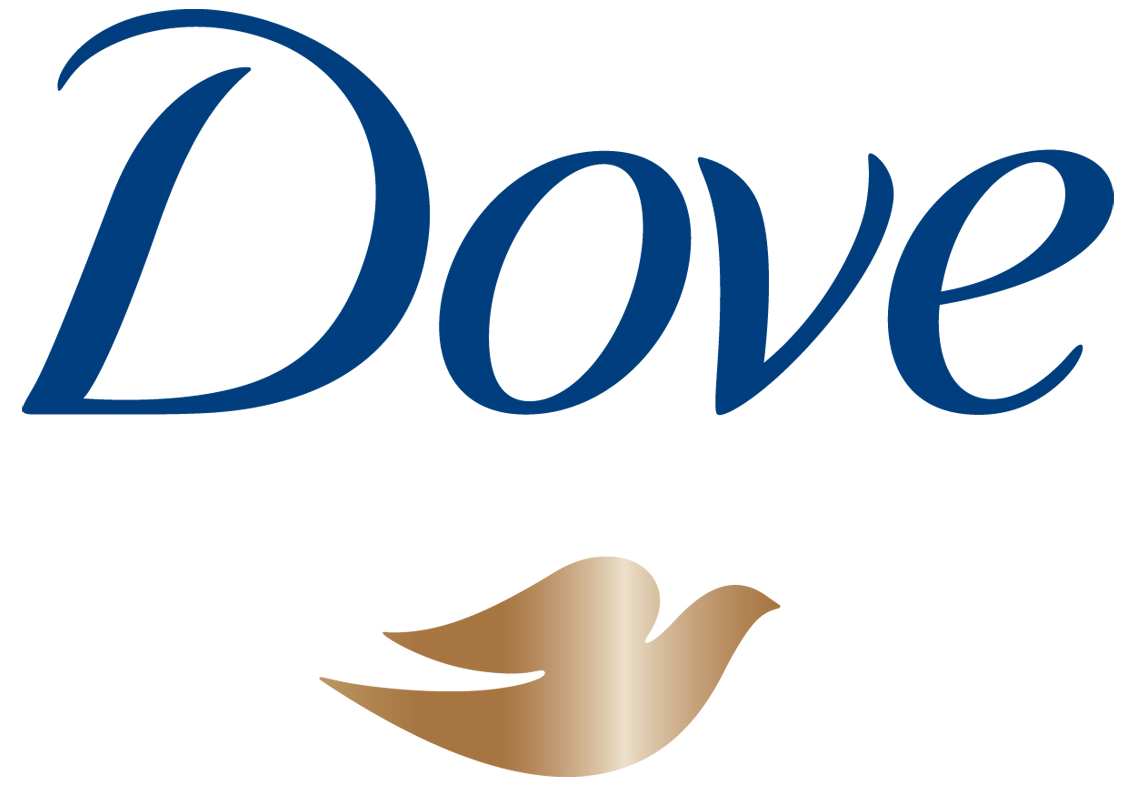 Dove has made a big splash over the past few years with their new body positive advertisements. Their brand has become synonymous with acceptance and self-love ─ two things that are super relatable for today's consumers.
They found a way to make their customers, primarily women, feel strong and beautiful at the same time. They've managed to speak to consumers through their brand and make them truly feel something.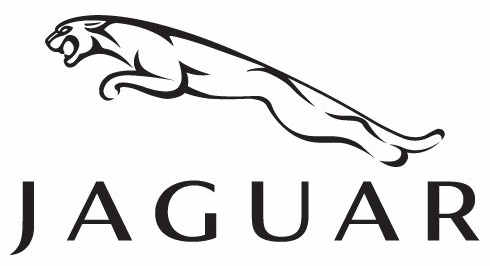 Jaguar has taken the basic need of a car and raised it to the level of making customers feel powerful and refined. As a luxury brand, they've raised the bar from simply looking good to having the power to hold their own amongst other companies.
Everything from their advertisements down to the sound of the engine is integrated to create this feeling in the consumer. They've transcended the automobile industry ─ now they're working in status sphere.
Yahoo used to be a top search contender, but now their direction is confusing. Here's what ex-CEO Carol Bartz said Yahoo was in 2010:
Yahoo is a company that is very strong in content. It's moving towards the web of one. We have 32,000 variations on our front page module. We serve a million of those a day. It's all customized. Our click-through rate went up twice since we started customizing this. People come to check the things they like. It's a place where you can just get it together. Yahoo is one site people always stop at.
What does all that even mean? What are Yahoo's customers trying to do? How is Yahoo helping them to accomplish this goal?
Don't be Carol Bartz. Be clear about what you offer. What do your customers want to accomplish? and How do you help them achieve it? These questions should be answered easily and quickly whenever you're talking about your company.
When competition gets fierce, it can seem like the easiest way to beat out competitors is to add a million features.Whether you have more features than other companies or not, more is not the way to compete.
It's tempting to use new features as a way to remedy something that isn't working, but this is rarely the best solution.
"This is a common problem in the initial version of a product, because most of the time the first version doesn't work, and the most obvious way to solve the problem is to just keep adding features until it starts to click. Yet does this ever work?" ─ Andrew Chen
The thing is, your product is not for everyone, and it shouldn't be. You'll be much more successful if you're perfect to a niche audience than just mediocre to a larger group of consumers.
So if you don't add features, how should you differentiate yourself?
The best, most beloved products and services have one thing in common ─ simplicity. Just think of the iPhone. No matter where you stand on Apple versus Android, it's clear that the iPhone nails simplicity. This simplicity, combined with its superior ease of use, is what keeps iPhone users coming back for more.
Just because you're a business doesn't mean you can't show a little personality. Brands with colourful, genuine personas are easy to fall in love with. Have fun on social media, come up with creative and fun campaigns, and try to be human. It's important to be open and honest, as well. Don't be afraid to be transparent about your flaws and mistakes.
Trust is absolutely vital today with social media, empowered consumers, and the appeal of being socially responsible. You aren't going to be perfect, and consumers don't expect you to be, but you must be trustworthy. Always keep your word, admit and fix your mistakes, and be a resource for your target audience.
Whether you're asking for feedback or customers just offer it up, it's incredibly important that you listen. Listening doesn't necessarily entail changing your product or ceding control to your customers. It's important that your customers feel like they're being heard and understood, and their feedback can be invaluable to your business. Follow customers on Twitter, respond to their emails, and offer to promote their businesses.
If you're going to overlook something, don't let it be your customer service. Impeccable customer support does wonders for customer retention and satisfaction, word of mouth, and customer acquisition. Grasshopper has 24/7 support, which isn't common among our competitors. We've found that our support makes a HUGE difference to existing and prospective customers. We do our absolute best to make sure our customers are well-supported and satisfied. All the time.