Grasshopper is leaving the UK
Sound Professional
&

Stay Connected
The Virtual Phone System Designed for Entrepreneurs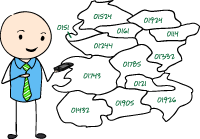 Local Numbers for London
Get London area phone numbers
Show where your business is located
Regional numbers are great for small businesses
With Grasshopper, your small business can get a regional number for the London area. These numbers are a nice way to give your company a community presence. These numbers show where you are located and connect your business to the customers you serve.
Having a phone number on our site increased conversion of site visitors to sign ups and paid users! Allan BranchLessAccounting
I am now a huge fan of Grasshopper… truly saved the day (and my sanity). Carolyn AppletonCarolyn M. Appleton, Inc.