Grasshopper is leaving the UK
Sound Professional
&

Stay Connected
The Virtual Phone System Designed for Entrepreneurs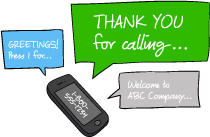 Call Management
Wires and boxes are things of the past. Use online Call Management to set up call forwarding, auto-receptionists, voicemail and more, without the overhead. With Call Management, you can divert your calls wherever you want—from a home office or a mobile device. Couple Call Management with premium numbers and business is good to go.
Online Call Management is Easy, Inexpensive, and Built for You
You do not need to be an advanced technician to set up an online call management system. Grasshopper's user portal is easy to use and built for small business owners like you. At an affordable price point, online call management is an inexpensive solution that can make your business sound large and professional, with a presence extending throughout the UK.
Online Call Management Allows You to Easily:
Automatically answer calls professionally
Direct callers quickly and easily to people or departments
Address common caller issues immediately
Show a professional appearance even if your business is small
Provide information automatically so you don't have to
Having a phone number on our site increased conversion of site visitors to sign ups and paid users! Allan BranchLessAccounting
I am now a huge fan of Grasshopper… truly saved the day (and my sanity). Carolyn AppletonCarolyn M. Appleton, Inc.