Grasshopper is leaving the UK
Call Diversion
Never Miss a Call With Call Diversion from Grasshopper.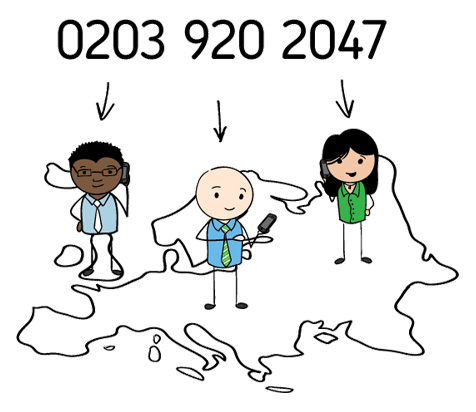 Never miss a call with call diversion
Stay connected with your employees and customers from anywhere in the world
Divert calls to any number on any phone
Grasshopper makes call diversion easy
30 Day Money Back Guarantee!
Get Call Forwarding »
or See How it Works »
What is Call Diversion?
It's pretty simple. Call diversion, or call forwarding is a feature that lets calls made to one number be diverted to another number. For example, you might have a 0800 business number that diverts to your mobile number. That way, when anyone calls your business line, you can answer it from your mobile instead of buying expensive hardware that you don't need.
Benefits of Call Diversion
Here are 5 important benefits to consider:
Availability – You and your staff can always be available to customers, at any time of the day.
Global Connectivity – You can easily be reached whether you step away from your desk or fly across the world.
Never Miss a Call – Calls can be diverted to another employee when you are unavailable.
Share Information – Customised on-hold commercial allows you to share vital information and pitch to potential customers while they wait.
Fully Customisable – Options allow you to screen the call before deciding if you want to take it or send it to voicemail.
This feature helps businesses small and large. Whether you have employees spread across the country or you just want to field calls after hours, Grasshopper call forwarding ensures that everyone can stay in touch.
Frequently asked questions about call diversion:
What options do I have when calls are forwarded to me?
By default, when a call is forwarded to you, you have three options after picking up the line. Each option will be announced to you before you begin speaking with the caller:
Option 1: Press 1 to accept the call
Option 2: Send the caller to voicemail
Option 3: Read the caller ID so you can determine whether you want to take the call
How many phone numbers can I have Grasshopper ring to try to reach me?
Each extension can ring up to six different phone numbers in the order of your preference. Callers will hear on hold music, or your own customised on-hold commercial, while our virtual phone system locates you. You may also program the days and hours that each number is called.
Can I have calls forwarded to more than one number?
Yes. Each extension can ring up to 15 different phone numbers in the order of your preference.
What types of phones can my calls be forwarded to?
With worldwide call forwarding, you and your employees can be reached on virtually any telephone number in the world including home, office, VoIP or mobile phones.
What do callers hear while the call is being forwarded?
With Grasshopper call forwarding, callers will hear on hold music, or your own customised on-hold commercial, while our virtual phone system locates you.
Can I program when to forward to each number?
Yes. You can program the days and hours that calls are routed to each forward number you add.
How do I disable call diversion?
Disabling one particular number or call forwarding in general is as easy as logging into your account and changing the forward setting to "Off." You'll also see an option to delete the number from call forwarding.
Can I use call forwarding for my local number?
Yes. Grasshopper features both freephone forwarding and local number forwarding.
Want to learn more about call diversion?
You can find additional call diversion information on our call forwarding page.
Over 250,000 Happy Customers Served
Here's what a few of them have to say about Grasshopper
I am now a huge fan of Grasshopper… truly saved the day (and my sanity). Carolyn Appleton Carolyn M. Appleton, Inc.
Having a phone number on our site increased conversion of site visitors to sign ups and paid users! Allan Branch LessAccounting