Grasshopper is leaving the UK
Call Barring
Bar Unwanted Calls with a Grasshopper Virtual Landline.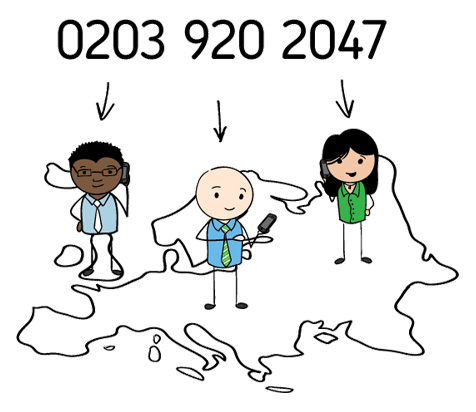 Keep track of who is calling you with Call Screening & Announce
Identify nuisance callers with ease
Bar unwanted callers from your phone via our 24/7 customer support
Grasshopper makes call management simple
30 Day Money Back Guarantee!
Get a Number

&

Sign Up »
or See How it Works »
Call Screening & Announce
Stay connected with Call Screening and Announce. When you answer a Grasshopper call, you'll have 3 options to choose from:
Answering the call
Sending the caller to voicemail
Hearing the caller's phone number
You can even choose to hear the caller's name before deciding. Callers remain on hold, with music, while you decide what to do with the call.
The Call Screening and Announce feature allows you to easily identify nuisance or spam callers, making call barring easy so you can focus on what's important for your business.
Frequently asked question about call barring:
What are the Call Screening, Call Announce, and Direct Connect Options?
Call Screening asks the caller to record their name before placing them on hold and transferring the call to you. 
Call Announce does not ask the caller to record their name (recommended).
Direct Connect connects the caller to you without any options. If you don't take the call, your callers won't be sent back to Grasshopper to leave a message - instead they'll go to your phone's voicemail system.
What options do I have when calls are forwarded to me?
By default, when a call is forwarded to you, you have three options after picking up the line. Each option will be announced to you before you begin speaking with the caller. The first option is to press 1 to accept the call. Option 2 will send the caller to voicemail and option 3 will read the caller ID so you can determine whether you want to take the call.
How do I bar numbers from calling me?
Call Screening and Announce gives you the option to hear a caller's phone number before taking a call, making it easy to track nuisance callers. Once you've identified a number you'd like to bar, just get in touch with Grasshopper support and we'll take care of it for you.
Over 250,000 Happy Customers Served
Here's what a few of them have to say about Grasshopper
I am now a huge fan of Grasshopper… truly saved the day (and my sanity). Carolyn Appleton Carolyn M. Appleton, Inc.
Having a phone number on our site increased conversion of site visitors to sign ups and paid users! Allan Branch LessAccounting